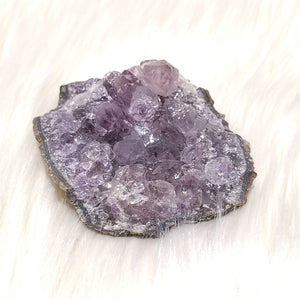 Amethyst Cluster
1 x Amethyst cluster
Size: Approximately 6 x 2.5 cm (WxH)
Comes with a crystal info card.
AMETHYST
Chakra: Third eye, soma, crown, higher crown
Zodiac sign: Aquarius, Pisces
Planet: Jupiter, Neptune
TRANQUILITY | CALM | BALANCE | STRENGTH | WISDOM | PROTECTION | CREATIVITY
Stone of sobriety, Amethyst was traditionally used to prevent drunkenness.  It has a sobering effect against overindulgence and overcomes addiction. Amethyst brings calmness and clarity to the mind, allowing one to be more focused and in control.  This powerful and protective stone enhances psychic abilities and spiritual awareness. Amethyst removes negative energies, cleanses the aura, and draws in divine energy,  It also balances emotions, and alleviates sadness and grief, particularly helpful for those making transition through death. Amethyst boosts the immune system and cleanses the blood. It provides relief from pain physically, emotionally and psychologically.
Please note: You will receive actual product as pictured. Crystals are natural products, therefore it is normal to have imperfections. All crystals are randomly shaped and no two pieces are alike. Even though the healing powers of crystal have been proven, it should not be used as a substitute to medical advice. Always consult a medical health professional for any physical or mental health issues.