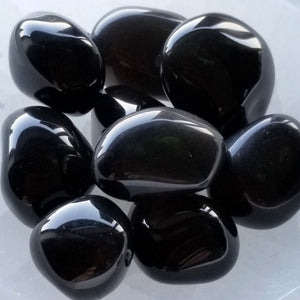 Apache Tear Tumble Stone
1 x Apache Tear tumbled stone
Size: Approximately 2 - 3 cm
Supplied with a crystal info card.
APACHE TEAR
Chakra: As protection, spleen for women, base for men; cleanses earth
Zodiac sign: Aries
Planet: Saturn
PROTECTION | GROUNDING | COMFORT | RELIEF | CALM | STRENGTH
Legend has it, Apache tears are formed by the tears of the Apache women and children mourning the deaths of the Apache soldiers during their fight against cavalry to defend their tribes. Apache tear heals grief, balances emotional state and provides insight into the source of distress and promotes forgiveness. It is a grounding stone which creates harmony in relationships by absorbing negative energy and protecting the aura. It is known to alleviate pain and nerve inflammation, reduces toxins inside the body, and enhances strength and vitality.
Please note: You will receive one stone selected intuitively. Crystals are natural products, therefore it is normal to have imperfections. All crystals are randomly shaped and no two pieces are alike. Even though the healing powers of crystal have been proven, it should not be used as a substitute to medical advice. Always consult a medical health professional for any physical or mental health issues.