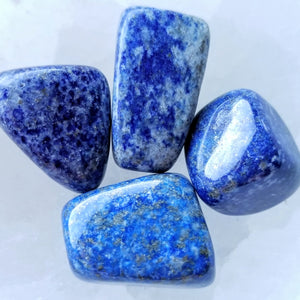 Lapis Lazuli Tumble Stone
1 x Lapis Lazuli tumbled stone
Size: Approximately 1.5 - 2 cm
Supplied with a crystal info card.
LAPIS LAZULI
Chakra: Throat, third eye, crown
Zodiac: Sagittarius
Planet: Venus
ENLIGHTENMENT | POWER | PROTECTION | ENHANCER | HARMONY
Lapis Lazuli encourages self-expression and creativity.  It provides courage and wisdom to speak up and take charge of your own life. It stimulates the mind to provide clarity and balance. This is a bonding stone in love and friendship where it brings honesty and compassion. As a third eye chakra opener, it provides connection with spiritual guardian and protects against psychic attack. Lapis Lazuli is a great stone for stimulating personal and spiritual growth.
Please note: You will receive one stone selected intuitively. Crystals are natural products, therefore it is normal to have imperfections. All crystals are randomly shaped and no two pieces are alike. Even though the healing powers of crystal have been proven, it should not be used as a substitute to medical advice. Always consult a medical health professional for any physical or mental health issues.