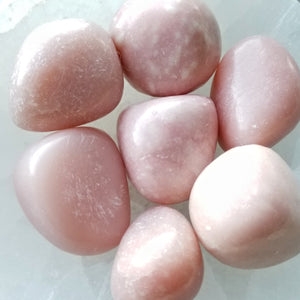 Mangano Calcite Tumble Stone
1 x Mangano Calcite tumbled stone
Size: Approximately 2.5 - 3cm
Supplied with a crystal info card.
MANGANO CALCITE
Chakra: Heart, higher heart
Zodiac sign: Libra
Planet: Venus
PEACE | ENDURANCE | FORGIVENESS | WELL-BEING | EMPATHY
Mangano Calcite is a heart crystal which facilitates contact with the angelic realm. It is beneficial for boosting self-confidence and self-esteem as well as preventing nightmares. Also known as Pink Calcite, this stone aids in the endurance of emotional trauma. It helps clear negative energies of fear and grief to bring unconditional love and acceptance.
Please note: You will receive one stone selected intuitively. Crystals are natural products, therefore it is normal to have imperfections. All crystals are randomly shaped and no two pieces are alike. Even though the healing powers of crystal have been proven, it should not be used as a substitute to medical advice. Always consult a medical health professional for any physical or mental health issues.