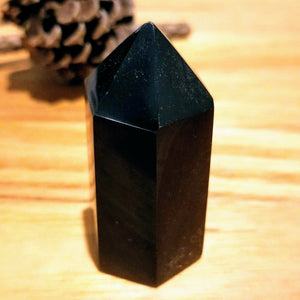 Black Obsidian Generator Point
Regular price $14.00 Sale
1 x Black Obsidian generator point
Size: Approximately 3 x 6 cm (WxH)
Supplied with a crystal info card.
BLACK OBSIDIAN
Chakra: Root
Zodiac sign: Sagittarius
Planet: Saturn
PROTECTION | TRUTH | STRENGTH | TRUE-SELF | INSIGHT
Strong protective stone which can provide a shield against negative energies from the environment as well as spiritually. A fast acting stone with great power, it can reveal truths, exposing flaws and weaknesses, as well as release blockages. Used carefully, it can draw out emotional stress and tension which will need to be confronted before reaching peacefulness. It allows one to discover their true self by magnifying all negative energies to be experienced and released. It channels power for the good of all. This grounding crystal can be used to break barriers, block negative energies, keeping you focused and supported.  It can assist in the process of breaking bad habits, as well as aids digestions, detoxification and blockages throughout the body.
Please note: You will receive actual product as pictured. Crystals are natural products, therefore it is normal to have imperfections. All crystals are randomly shaped and no two pieces are alike. Even though the healing powers of crystal have been proven, it should not be used as a substitute to medical advice. Always consult a medical health professional for any physical or mental health issues.