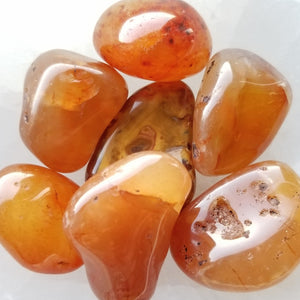 Carnelian Tumble Stone
1 x Carnelian tumbled stone
Size: Approximately 2 - 3 cm
Supplied with a crystal info card.
CARNELIAN
Chakra: Base, sacral
Zodiac sign: Taurus, Cancer, Leo, Scorpio
Planet: Sun
EMPOWER | JOY & WARMTH | COURAGE | CREATIVITY | COMPASSION | CONCENTRATION
Used by the ancient Egyptians as protector and guide in the journey of the after life. Carnelian stabilises emotions and anchors one into present reality. It provides courage and confidence to drive you forward on a desired life path. A stone of abundance and success in business and career. Carnelian aids metabolism and improves blood circulation.  It stimulates passion and desire, while increases fertility and overcomes impotence.
Please note: You will receive one stone selected intuitively. Crystals are natural products, therefore it is normal to have imperfections. All crystals are randomly shaped and no two pieces are alike. Even though the healing powers of crystal have been proven, it should not be used as a substitute to medical advice. Always consult a medical health professional for any physical or mental health issues.