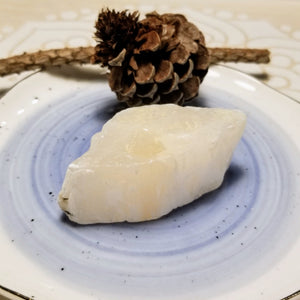 Selenite Chunk
1 x Selenite chunk
Size: Approximately 6.5 x 4 x 2.5 cm (LxWxH)
Supplied with a crystal info card.
SELENITE
Chakra: Higher crown
Zodiac sign: Taurus
Planet: Moon
CLARITY | CALM | PEACE| TRUTH | HONESTY | PURITY
The fine calming vibration to Selenite brings peace, quiet and light to the mind, making it the perfect meditation crystal. It serves as a spiritual pathway to the realm of guardian angels and facilitates telepathic transmission. It clears confusion and brings clarity to a busy mind. Use Selenite to balance and stabilise the body and emotions. Placed around the home, it acts as protection against negative energies.  Selenite can be used to treat the skeletal system, cancer/tumour, increase fertility, strengthen relationship and stabilise erratic emotions. Similar to Clear Quartz, Selenite can also be used to cleanse other crystals of their negative energies.
Please note: You will receive actual product as pictured. Crystals are natural products, therefore it is normal to have imperfections. All crystals are randomly shaped and no two pieces are alike. Even though the healing powers of crystal have been proven, it should not be used as a substitute to medical advice. Always consult a medical health professional for any physical or mental health issues.