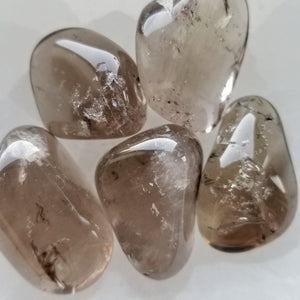 Smoky Quartz Tumble Stone
1 x Smoky Quartz tumbled stone
Size: 3 - 4 cm
Supplied with a crystal info card.
SMOKY QUARTZ
Chakra: Earth, base
Zodiac sign: Scorpio, Sagittarius, Capricorn
Planet: Pluto
HEALER | GROUNDING | STABILIZING | CONCENTRATION
A powerful metaphysical stone with high level of energy provides grounding and concentration during meditation and spiritual connection. It absorbs negative energy and emotions making it perfect for relieving stress and depression. Smoky Quartz promotes positive and sensible thoughts to provide clear insights and eliminates fear of failure. Naturally irradiated, Smoky Quartz provides protection against electromagnetic radiation, and is excellent for relieving radiation-related illness or chemotherapy. Also a great pain reliever for the stomach, hip and legs, as well as headaches, muscle and nerve tissue. A wonderful stone for reconnecting oneself with the earth's powerful vibration.
Please note: You will receive one stone selected intuitively. Crystals are natural products, therefore it is normal to have imperfections. All crystals are randomly shaped and no two pieces are alike. Even though the healing powers of crystal have been proven, it should not be used as a substitute to medical advice. Always consult a medical health professional for any physical or mental health issues.