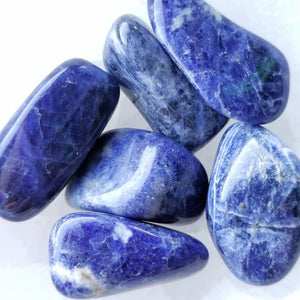 Sodalite Tumble Stone
1 x Sodalite tumbled stone
Size: Approximately 1.5 - 3cm
Supplied with a crystal info card.
SODALITE
Chakra: Throat, Third eye
Zodiac sign: Sagittarius
Planet: Venus
HARMONY | BALANCE | UNDERSTANDING | INTUITION | WISDOM
A harmoniser crystal, Sodalite promotes rational and logical thoughts and an intuitive mind. It empowers one to seek a deeper level of self-understanding and acceptance, and opens up the mind for spiritual perception. Great crystal to use for calming emotional imbalance and deepening meditation. Sodalite has the ability to clear electromagnetic pollution from your everyday electronic devices such as smartphones, tablets and computers. Place Sodalite in your living and work space to minimise the negative effect of electromagnetic radiation. Use Sodalite to balance metabolism and boost immune system.
Please note: You will receive one stone selected intuitively. Crystals are natural products, therefore it is normal to have imperfections. All crystals are randomly shaped and no two pieces are alike. Even though the healing powers of crystal have been proven, it should not be used as a substitute to medical advice. Always consult a medical health professional for any physical or mental health issues.